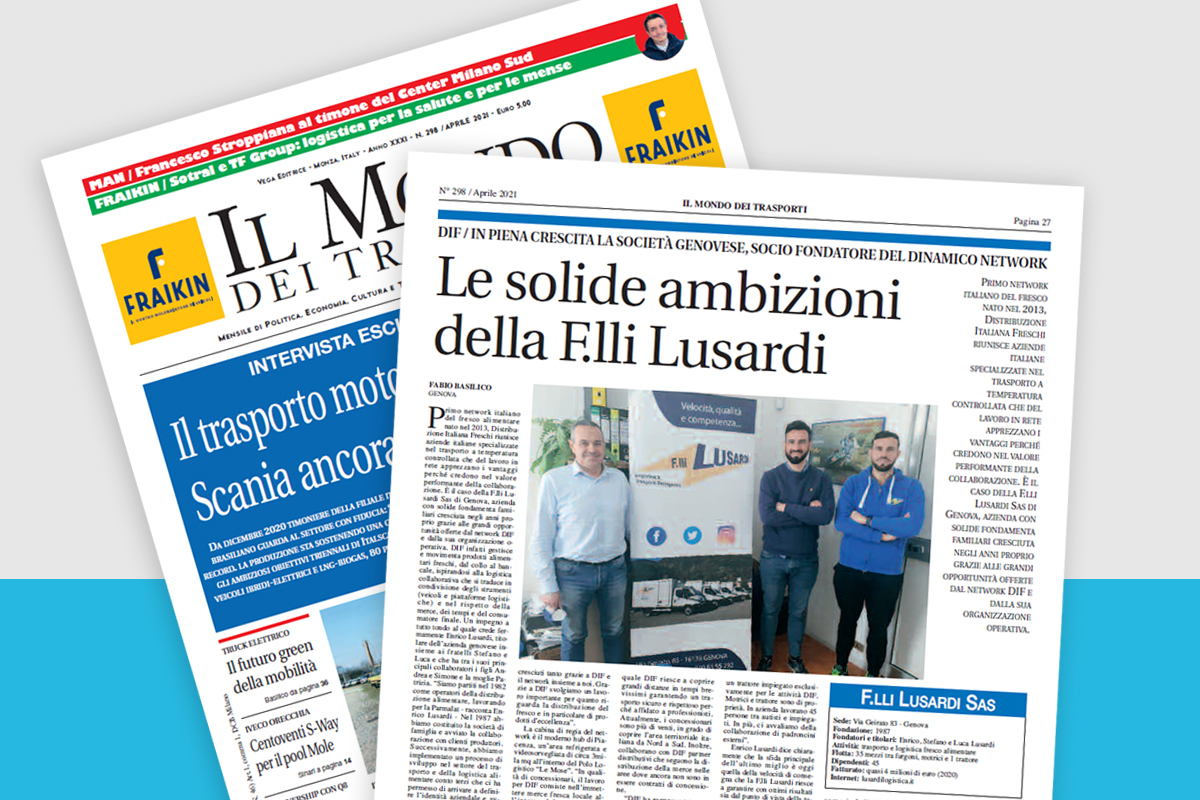 Tuesday September 21st, 2021
DIF members join a network that aims to collaborate in order to achieve a well-defined goal: to grow together.
In an interview in the April issue of Il mondo dei Trasporti, the subsidiary Lusardi Logistica & Trasporti Refrigerati confirms this.
Andrea Lusardi, for example, describes our network's membership in these words:
"We immediately saw the value of the network and its benefits, particularly the ability to reach all of Italy. What we do is important to the customer! Having such a vast network for fresh distribution ensures the efficiency and quality of deliveries of delicate products that require special care. In Italy, there was a need for a DIF-organized reality. We also had the opportunity to grow gradually, beginning with a few volumes and immediately taking advantage of the network's operation, which allowed us to grow up to the current state of affairs".
The Lusardi Company was one of the first to believe in us: they put their trust in our services and eventually reaped the benefits.
Enrico Lusardi explains it this way:
"DIF was a wonderful novelty for us because it represented a world we were unfamiliar with. We started from the ground up, relying on the fact that DIF set a national record by being the first to propose a fresh distribution circuit. Things are going so well now that we can move nearly 200 tons of goods every day."
DIF's strength is derived from cohesion.
Collaborate, connect, integrate, and grow. That is exactly what DIF does!
Affiliates who join our network are able to serve more customers, cover longer distances in less time, and ensure safe and respectful transportation because they are entrusted to professionals. With us, the small transport company's distribution capacity grows, allowing it to finally deliver in previously inaccessible areas thanks to the network.